Children's Bible Study – August 19th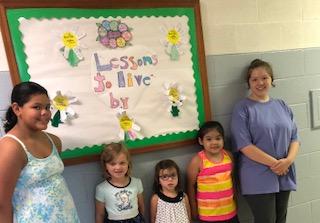 On Sunday, August 19, we opened our Children's bible study with a puppet show. Pink, Tigger and Bea (Our new puppet) introduced the lesson on The Beatitudes. Miss Becky gave a quick introduction of the Sermon on the Mount. We got off to a good start when Miss Dianne took us on a journey about the Beatitudes reading each bible verse and explaining what each one means to us today in words that children can understand.
Our craft followed our theme. Using a flower with petals the children put together a craft that used both the bible verses and the kid friendly verse. We had ample help from Miss Nancy, Miss Becky, and Miss Glenna. It was a fun craft and you can check it out on our bulletin board outside the children's room.
We introduced Pastor Mark to the bells, and had a quick lesson and a fun time with them. Pastor Mark does know his colors, so important to play the bells. Hopefully we can spend more time on them next session.
Then it was off to the picnic. What a treat for everyone.
SPECIAL THANKS TO OUR YOUTH HELPER, ALYSSA BOYER, FOR BEING THE VOICE FOR BEA AND HELPING MAKE OUR BULLETIN BOARD LOOK SO WONDERFUL.
"Let the little children come unto me, and do not hinder them, for the kingdom of God
belongs to such as these." Matthew 19:14 (NIV)
https://www.fumcgalax.org/wp-content/uploads/2018/10/cbs-august-2018.jpg
223
320
admin
https://www.fumcgalax.org/wp-content/uploads/2015/08/logo2.png
admin
2018-10-09 11:58:26
2018-10-09 11:58:26
Children's Bible Study – August 19th