A big surprise awaited the children at CBS on Sunday, May 20 — a NEW PUPPET STAGE!!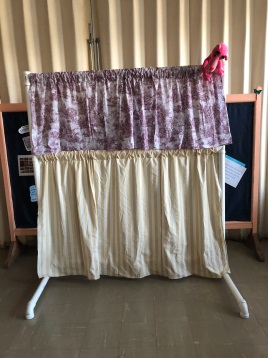 Pink, our panther puppet is surveying the stage in this picture. He and Tigger (not shown) were thrilled with this special surprise, as were the children. Our entire CBS would like to offer a HUGE thank you to BILLY SIZEMORE for his time and hard work!
All 10 children and 4 adults were entertained as Pink and Tigger reviewed the important events that had taken place in their absence over the past six months:  Christmas, being out of school for bad weather, Easter and the after Easter egg hunt.  Then they introduced Ms. Ruth who told the Bible story about when bad things happen to good people. She told the first part of Joseph and His Coat of Many Colors.
Check out the coats we designed for Joseph below.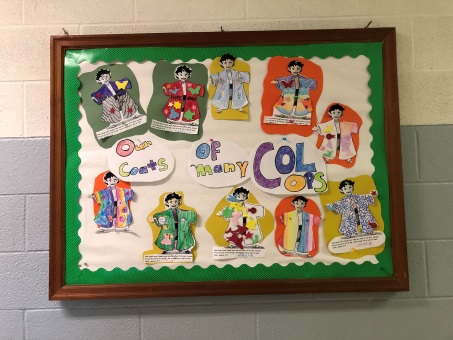 You can see the real bulletin board in the hallway down from the office. Go by and see the creativity. We are so proud of our children!!!
"Let the little children come unto me, and do not hinder them, for the Kingdom of God belongs to such as these." Matthew 19:14 NIV
BE WATCHING FOR THE DATE OF OUR NEXT CBS TO FINISH THE STORY OF JOSEPH.