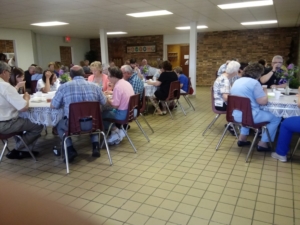 A GOOD TIME WAS HAD BY ALL AT THE LUNCH WELCOMING PASTOR MARK AND GLENNA
HELLO ALL,
As Chair of the Board of Trustees, I would like to update the congregation on the work that has been taking place on the picnic shelter and the interior of Parsonage #1.
The picnic shelter has new siding, new wiring, additional lighting, new switches and outlets, as well as new support beams and trusses. That finishes up the work we started previously when we rebuilt the brick grill, added a new cooking surface and charcoal pan, and replaced the roof shingles. I hope the church can get another 80+ years of use out of it!
Work on Parsonage #1 has taken longer than planned due to the fact that we were unable to get inside the residence when we were supposed to, plus the fact that there have been a couple of unexpected contractor delays. That aside, much progress has been achieved.
The interior of the residence has been painted, the wall-to-wall carpet has been removed, and the hard wood floors have been refinished and sealed.
Further, new water tight flooring was installed in the kitchen and bathrooms, both toilets and a sink were replaced, three ceiling lights were replaced, two ceiling fans were replaced, four window air conditioners were added, the front and rear porch lights were replaced, and the kitchen is being completely renovated.
Aside from fresh paint and a new floor, the kitchen has new oak cabinets and hardware, granite countertops, tile backsplash, a new sink and fixtures, new GE appliances, a garbage disposal, and new over-the-sink lighting.
Unfortunately, this room is not yet complete, but we're very close to that point. We have no influence over those delays that are out of our control, but we know that all will be well in the end. The work to the pastor's residence will be completed soon and it will be a source of pride for all of us.
I want the congregation to know that Mark and Glenna McFadden have been wonderful during this renovation process and I thank them again for their patience.
Bill Brannon, Chair
Board of Trustees
https://www.fumcgalax.org/wp-content/uploads/2018/08/welcoming-lunch-pastor-1.jpg
658
877
admin
https://www.fumcgalax.org/wp-content/uploads/2015/08/logo2.png
admin
2018-08-15 16:45:41
2018-08-15 16:45:41
Updates on the Work on the Church